Episodes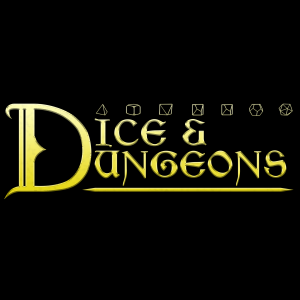 Tuesday Apr 27, 2021
Tuesday Apr 27, 2021
The party reaches the sewer access point they've been looking for and they're ready to face Krom, but the plan doesn't go quite off quite the way they'd hoped. Nines also explains another IP in some detail.
Sponsored Podcast with Ads.
Our sponsors this week were:
Geekified: Geekified is a tabletop gaming store out of Vinton Iowa that takes online orders for all your TTRPG needs. Using the link below will get you 5% off your first purchase and buying through the link helps to support the show:
https://www.geekified.us/discount/DICEANDDUNGEONS
Cali Pigeon Games: Time's almost up! Get in on this new 2-5 player card game before it's too late. Calling All Knights is a 2-5 player trick-taking card game for the whole family featuring over 60 unique knight characters and creatures. Now in its final days on Kickstarter, pledge now for your last chance to make sure the game is funded, and maybe even pick up an art book featuring all of the crazy characters.
See it now at: https://www.kickstarter.com/projects/calipigeon/calling-all-knights
#ad​ #sponsored